• Mumbai Indians 168-3; Kolkata Knight Riders 170-3 (18.3 ov) 
• Kolkata win by 7 wickets with nine balls remaining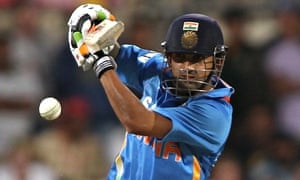 Suryakumar Yadav hit the winning runs to complete a swashbuckling 46 from 20 balls as Kolkata Knight Riders beat Mumbai Indians by seven wickets to open the 2015 edition of the Indian Premier League.
Kolkata were chasing Mumbai's target of 168 which, despite Rohit Sharma's 98 not out, was under par. The Australian opener Aaron Finch was dismissed early for five by the excellent Morne Morkel, whose tight spell of four overs for 18 runs and two wickets made him the man of the match and stopped Mumbai from scoring early in the match.
Robin Uthappa and Gautam Gambhir began Kolkata's reply slowly and it was not until Robin Uthappa was caught by Harbhajan Singh in the slips off the bowling of New Zealand's Corey Anderson that the Knight Riders began to seriously chase. Gambhir managed his side's reply expertly, hitting 57 from 43 balls as Mumbai's attack, which features Lasith Malinga and Vinay Kumar struggled to find a breakthrough.
Gambhir was joined at the crease by Manish Pandey, whose 40 from 24 nearly matched Yadav's spectacular innings following Gambhir's dismissal at the hands of Jasprit Bumrah. Yadav steered his side home to a comfortable win with nine balls remaining.
"It was a tough total to chase, and the way we chased showed we were deserving winners," said Gambhir. "It was a very good wicket, but we never knew how it was going to behave. It was different to the usual wicket we see in Kolkata. The way Morne [Morkel] bowled, the way other guys bowled. Morne was exceptional."
Sharma, for his part, admitted that Mumbai had not scored enough runs. "We were probably 10-15 runs short, but we should have done a little better with the ball," he said. "There was something for the bowlers still. We didn't execute the plans well, but I hope the guys can pick it up and come out in a positive manner. The wicket was really good, you saw how easily they chased down 170. It was a good knock, but ending up on the losing side doesn't please you. I'm sure our guys can learn from the mistakes we made."
Have something to add? Share your comments on Facebook.
Comments
comments