• The 21-year-old world No4 ends the day eight under
• Ernie Els, Charley Hoffman, Justin Rose and Jason Day all on five under
• World No1 Rory McIlroy is one under; Tiger Woods ends one over
• Masters 2015 round one: as it happened
• Masters 2015: day one – in pictures
• McIlroy and Mickelson shine in their three-ring circus
• Woods happy enough with his start to Masters campaign
• Willett and Watson offer young and old cause to cheer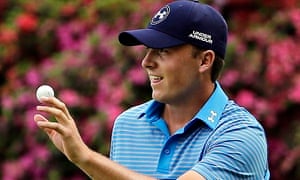 Jordan Spieth at one point looked to be threatening the course record but he still started strong with a round of 64. Photograph: David J Phillip/AP
On a day where Tiger Woods seemed in a constant battle against implosion and one in which Rory McIlroy looked delighted just to survive unscathed, Jordan Spieth roared to the top of the Masters leaderboard in a style that only endorsed theories of a new golfing era. This also nodded, once again, specifically to the Texan's brilliance.
On the birthday of the late, great Seve Ballesteros, the 21-year-old Spieth produced a showing which the Spaniard would surely have graced with his approval. Augusta's crowds roared in delight. There was entertainment to match scoring. The best news? This is only the start.
Any surprise attached to Spieth's 64 is unnecessary. He had, after all, finished no worse than second in his three PGA Tour events immediately before this major. At Augusta a year ago he was a genuine contender up until the closing stretch of Sunday holes. Spieth has already shown himself a rapid learner.
Age, though, attaches context. When Woods won his first Masters, Spieth had not yet turned four. Spieth is seeking to become the only player apart from Woods in this modern age to win a major before his 22nd birthday.
Professional golf has hardly toiled during the years since 1993, but few characters have been catapulted on to the scene with as much vim. The next logical step is a major triumph; to do so here, Spieth will need to handle arguably the most intense pressure in his sport.
"I wanted to get off to a good start. Sometimes that is the hardest part of this tournament," said the world No4. "I managed to do that then a few things went my way. I'm excited by the start. I played well here last year but never broke 70. Eight under par at Augusta National is nothing to complain about."
For a back-nine spell on Thursday, Spieth was flirting with the unheard of. There has never been a 62 in a major championship. Spieth raced to eight under par through 14 holes; a consequence of some outrageous fortune on the last two of those holes, it must be recognised, alongside wonderful golf. Even on the 12th Spieth was certain he had missed a birdie putt to the right; it dropped to the bottom of the cup.
Later, Augusta National applied brakes, albeit softly. Spieth was over-zealous with his second to the par five 15th, triggering his first bogey of the day. Suddenly, 97 other competitors were afforded some relief. Or perhaps 96 is a more valid, given Ben Crenshaw's 91 – more than four times Spieth's age – rather appears to rule him out of Sunday afternoon's business end. That was a five stroke improvement on the same round, 12 months ago, so perhaps chuckles are unfair.
In another golfing stratosphere, Spieth holds a lead of three, secured with a glorious birdie putt from 15ft on the last but it was immediately offset by Jason Day on the 16th. The Australian thereby become the closest pursuer, a position earned by five back-nine birdies in a row, but dropped a shot on the penultimate hole to slip back into second place with Ernie Els, Justin Rose and Charley Hoffman.
Spieth is the youngest ever to hit the front here after 18 holes. McIlroy is seven adrift and clearly still a notable factor but a batch of other players – Paul Casey, Phil Mickelson, Patrick Reed and Dustin Johnson among them – also hover with menacing intent.
In proving this will not just be the domain of the fresh-faced gentleman, Els had been level with Spieth for a spell. "I felt at ease out there, I felt patient," said the enduring South African.
The prominence of Rose will be a surprise to many given he arrived in Georgia with a record of three missed cuts in five starts. The Englishman cited his pairing with Bubba Watson, the defending champion, as a factor in his day's work. Watson signed for a 71. "There was a nice atmosphere out there on the golf course," Rose said. "That felt like it got the day off to a good start, playing with Bubba, and the excitement level out there.
"I guess there is just that little sort of feeling of the spotlight being on you and the pressure that brings. There was the crowd, the energy and atmosphere that you normally get later, towards the back-end of a golf tournament. I felt like I had that feeling early today. It was just a nice bit of energy or adrenaline to really kick start my game.
"I felt like I've been practising really well the last two, three weeks and it was nice just to be able to take it into the arena today."
Spieth has become a regular at hogging the limelight. One down, three to go.
Have something to add? Share your comments on Facebook.
Comments
comments