From East Lothian to Land's End, we pick out exciting new kids' attractions to visit this spring, whether you're entertaining adolescent adrenaline freaks or little people with a penchant for piracy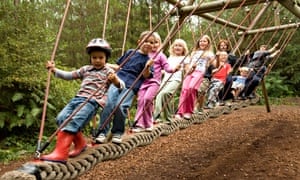 Superworm at Bedgebury national pinetum, Kent
This adventure trail (one of 19 in Forestry Commission woodland across England) has 10 fun challenges for three- to eight-year-olds to complete, based on Julia Donaldson's Superworm books. Bedgebury's new visitor centre and cafe also opens in time for the Easter holidays, serving locally sourced food. It is part of a £600,000 redevelopment that also includes new play areas and mountain bike trails.
• £9.50 for cars, free for pedestrians, plus £3.50 for Superworm activity pack,forestry.gov.uk to find your nearest trail, admission prices vary,bedgeburypinetum.org.uk
Pirate's Quest, Newquay, Cornwall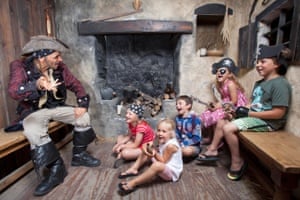 In this immersive experience, actors, special effects and 360-degree sets bring kids face-to-face with 18th-century buccaneers, smugglers and mermaids. They will find themselves on shipwrecks, in taverns and in magical lands – and if they read the map correctly, they will find the hidden treasure. If not, they may have to walk the plank …
• £9.95 adults/£6.95 children, family (based on two adults, two children) £30.42,piratesquest.co.uk
Critter Creek at Paultons Park, New Forest, Hampshire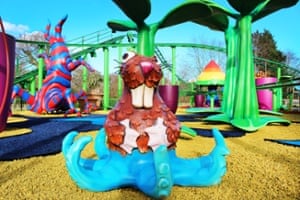 This family theme park, home to Peppa Pig World, has a new mini-land of weird and wonderful creatures. Critter Creek is full of mixed-up beasts like the fly-ger and the horned swamp donkey, plus Little Shop of Horrors-style plants, a bug emporium, a roller coaster and an express train. This is a good one for children who prefer creepy-crawlies to cute kittens.
• From £24.25, children under 1 metre free, family £93, paultonspark.co.uk
Pier Zip at Rock Reef, Bournemouth
On the world's first pier-to-shore zipwire, daredevils can climb the tall launch tower on Bournemouth pier and throw themselves off, flying above the waves and down to the beach. It is a dual line, allowing zipriders to race each other. This is the latest attraction at Rock Reef, which also has a climbing route, a cave adventure and an aerial obstacle course.
• £15 for one rider, £26 for two, min. height 1.2 metres, rockreef.co.uk
Newcastle Castle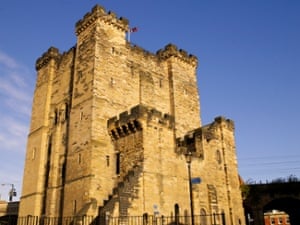 Castle Keep and Black Gate reopen on 21 March as Newcastle Castle, after a £1.67m refurbishment. An exhibition tells the story of the villains who have lived in the castle over the centuries, and audio-visual installations recount events from Newcastle's past. Family fun over the Easter holidays includes Knight School, where children can strap on armour and pick up a sword.
• £6.50/£3.90, newcastlecastle.co.uk
Shaun the Sheep Experience, Land's End, Cornwall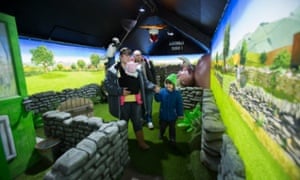 At this ewe-nique attraction, children can see the original sets and models from the Aardman Animations TV programmes and films, try their hand at animation at stop-motion stations and star in their own Shaun the Sheep scene using green-screen technology. Other attractions at Land's End include a 4D cinema, Arthur's Quest, Greeb Farm and the End to End Story.
• £10.80/£8.10, family £27, landsend-landmark.co.uk
National Videogame Arcade, Nottingham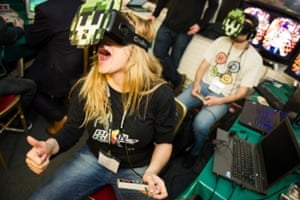 The world's first dedicated cultural centre for videogames opens on 28 March with a host of interactive experiences, from vintage arcade machines to experimental new computers. The first special exhibition, Jump!, is an exploration of jumping from Donkey Kong (1981) to Destiny (2014), with playable games. One way for parents to get kids off their iPads.
• £8.50/£6.50, family £25, gamecity.org
1066 Target Sports, Hastings
Little Robin Hoods and Maid Marians can add a new string to their bow at this indoor target sports centre. Activities range from archery to rifle shooting – and even axe-throwing. The company emphasises that the sports are open to all ages (it is more about control and consistency than size and strength) and that girls are especially welcome – there are equal numbers of male and female instructors.
• From £5 for archery and crossbow to £25 for a taster of five activities,1066targetsports.co.uk.
Amazona Zoo, Cromer, Norfolk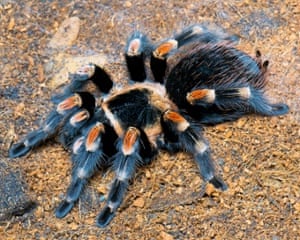 Explore the wildlife of the Amazon without going any further than Cromer. As well as its resident jaguars, pumas, ocelots and monkeys, Amazona Zoo has a scary new tarantula house. Apparently the hairy spiders are docile and make great pets, so parents shouldn't be surprised if the children get ideas … though they could be distracted with the new guinea pig village, a far more appealing prospect.
• £11.50/£8.50, family £35, amazonazoo.co.uk
Crazy golf at East Links Family Park, Dunbar, East Lothian
This farm-themed activity park is opening a spectacular 18-hole crazy golf course this spring. It is located in and around a pond, which doesn't bode well … When the kids get tired of fishing golf balls out of the water, East Links also has newborn lambs, goat kids and chicks, and a massive Easter egg hunt from 3-6 April.
• £12.50, family £46, children up to 24 months free, eastlinks.co.uk
Junior Bounce at Zip World Titan, Snowdonia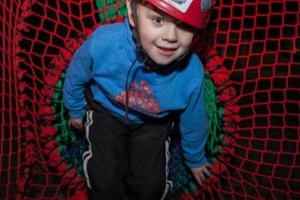 Bounce Below, the wacky underground playground full of giant trampolines, net walkways, slides and tunnels, now has a little sister. Junior Bounce is a safe but adventurous place for three- to six-year-olds to play. The setting – an illuminated Victorian slate mine – is a cut above (or should that be below?) standard soft play centres.
• £12.50 for ages three-six (accompanied by an adult), bouncebelow.net
Cornerhouse/Home, Manchester
On 4 April, Manchester will bid farewell to the visual arts centre Cornerhouse, which is moving to Home, a new cultural hub. The Storming (part one, 4-7pm) is a spectacular leaving show aimed at families, which begins in the streets, accompanied by a samba band and the drag act Sisters Gorgeous, and culminates with the crowd pouring into the building. Part two (9pm till late) is an adults-only closing party. Home, meanwhile, opens in late May.
• Free, cornerhouse.org, homemcr.org
Time Tower at Warwick Castle, Warwickshire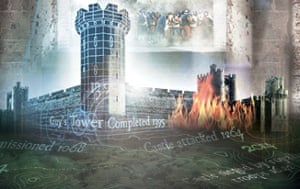 This immersive multimedia experience takes visitors back to the birth of Warwick Castle and relates its history: bloodshed, treachery, destruction and all. Also in time for Easter, the Horrible Histories show is back in an encampment in front of the castle, with actors, games, shows – and smells. Finally, a medieval glamping site returns in May, in a riverside glade.
• Castle tickets from £14.70/£12.30, family from £53.76, warwick-castle.com
Platform 9¾ at the Warner Bros Studio Tour, London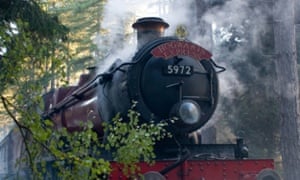 The Harry Potter tour experience has launched Platform 9¾, complete with the Hogwarts Express (pulled by steam engine Olton Hall) that appeared in the films. Fans can climb aboard. This latest addition follows the Dark Arts area, opened late last year, which includes scary props such as a six-metre model of Voldemort's snake.
• £33/£25.30/four and under free, family £101, wbstudiotour.co.uk
In with the Lemurs, London Zoo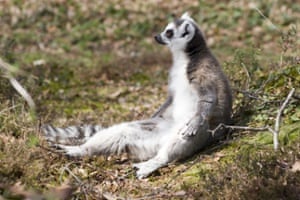 London Zoo's latest walk-through exhibit mimics the Madagascan shrub forest and is populated by 15 ring-tail lemurs and one black-and-white ruffed lemur. As in the zoo's Meet the Monkeys area, visitors will be able to stroll among the lemurs and watch them leaping, lounging and climbing. Tip: go on a warm afternoon – lemurs love sunbathing.
From £22.50/£16.65, family £68.04, zsl.org
Have something to add? Share your comments on Facebook.
Comments
comments